FEATURING THE GOAT YOUR LAND HERD
FEATURING THE GOAT YOUR LAND HERD
Many of our herd members are featured throughout this website. Our goats are raised in an ideal environment, we describe as Goatlandia. Literally, goat paradise for dairy goats.  Our goats forage on land laced with fragrant woods, meandering creeks, lush prairies and hillside forbs, providing the quintessential, herbacious goat fodder. A reason our goats have gorgeous conformation and outstanding disposition. Also, why they produce the nutritionally rich and full-bodied goat's milk Nubians are capable of. We offer a lifetime of mentorship with the sale of our goats.

First and foremost we are pastoralists. As breeders, not producers, we invest great care and time in the development of our herd members. We don't manage disease when it's not present, thus vaccinating is not our practice.  Our dam-raised kids are provided with native habitat  within the first, crucial six months. Learning from their dams how to live on the land. They are handled immediately, and quickly developing a wide range of innate physiological and cognitive abilities. When you acquire a Prairie Sky Nubian, you're goat is already trained for life in the woods, fields and trails.
Email us: daisy@goatyourland.com
OR
or direct Facebook Message us.
We are located near the Kansas & Missouri
state line.
Prairie Sky Nubians
Available for acquisition
Nubian Buck – Boaz, a proven, 5 year old, unregistered.
Boaz is tall, hefty and on the very large side of the Nubian spectrum, with registered parentage. We are relocating onto smaller acreage, and will not be breeding for the next year. Boaz has many years of breed-ability to offer his future herd. If you're wanting to add hardiness, dairyness and some WOW to your herd, this is your guy! He has provided gorgeous kids to our herd. Our herd is closed, and managed as holistically/naturally possible.
Boaz has been healthy and vigorous since birth. Raised on the land, he thrives with forage and graze, and has developed excellent hardiness and parasite resistance. Boaz is a gentle giant, affectionate, obedient and adapts to new routines quickly. Accustomed to to being called out and called back home. He is well trained and with a very quiet and peaceable disposition. Having a wide and hefty girth, Boaz would make an excellent pack goat or part of any land management herd. PM me via Facebook, or email me with questions or more information.
BORN 7/17/2017
This gentle giant, with phenomenal disposition is Boaz, our 5 year old sire. He is intact, and ready to provide gorgeous conformation and dairyness to your future kids. Boaz is unregistered, having both a registered sire and dam. His dam has parentage from Woest-Hoeve and Cozy Creek. His sire is from Wingwood, Cozy Creek, Hoanbu and High Timber lines.
Boaz has lived in a pastoral environment, trained to forage, eat wild, exit his paddock and return home.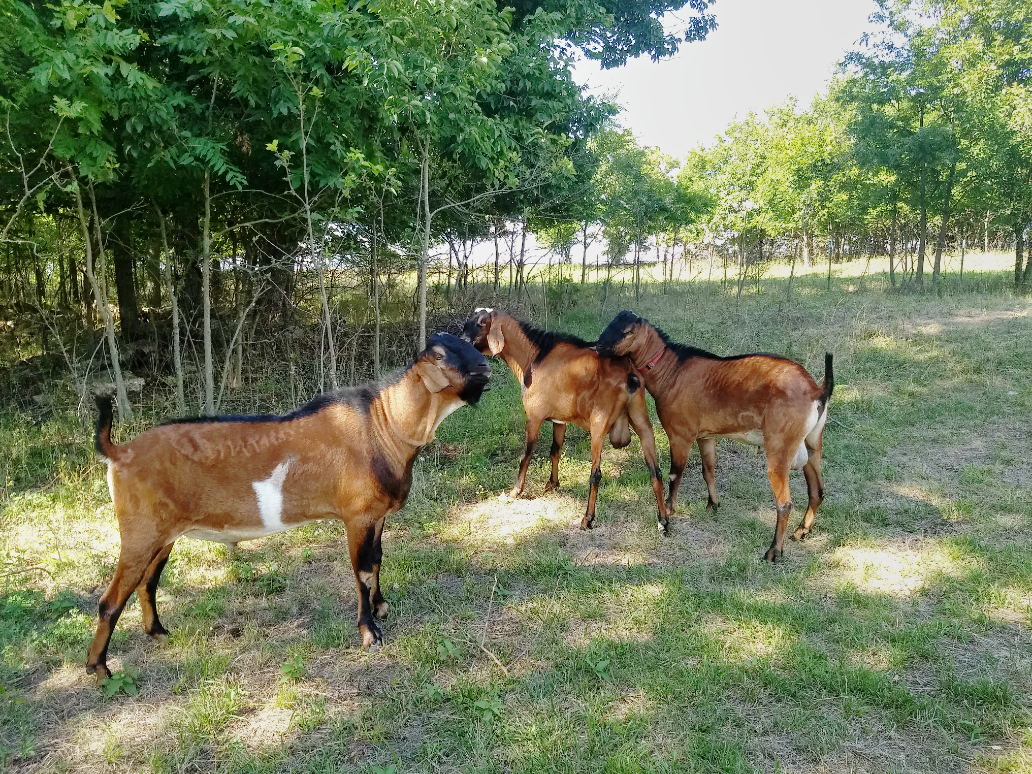 rugged, field-hardened dairyness IS WHAT WE AIM FOR.
The land is already proven to be an excellent source of nourishment yielding higher quality hair, milk, meat, and even pets. Goats hardened on the land provide a litany of benefits to any herd, that most give little attention to. Such as acclimation to the elements, parasite resistance, savvy field and forage knowledge, self-medication, herd dynamic, strong progeny, excellent disposition and more. The conformation of all of the progeny born in our pastoral herd, is superior to that of the kids we started our foundation herd with.
Customarily, little consideration is given to the value provided by goats permitted time to develop among a foraging herd. Did you know a goat's learning begins in utero, and continues before weaning? But the process is complete after weaning. Whereby knowledge of food avoidance, food selection and self-medication through plant secondary compounds, is complex social learning attained through observation and imitation. As is shaping proper feeding behavior, how and where to forage. Your pregnant does foraging on the land, are already training their kids what to eat!
Without the dam, the herder takes up the task. Thus the goats have to learn by trial and error, and relying on some memory that they retained from their dams in utero. Only able to exercise that if they are not confined all the time.
Get In Touch
With Us and Our Goats
To  inquire about our goats, training or goat milk products, submit your details below or Facebook message me.
Photography and website design by Daisy Pieraldi Photography ©2021